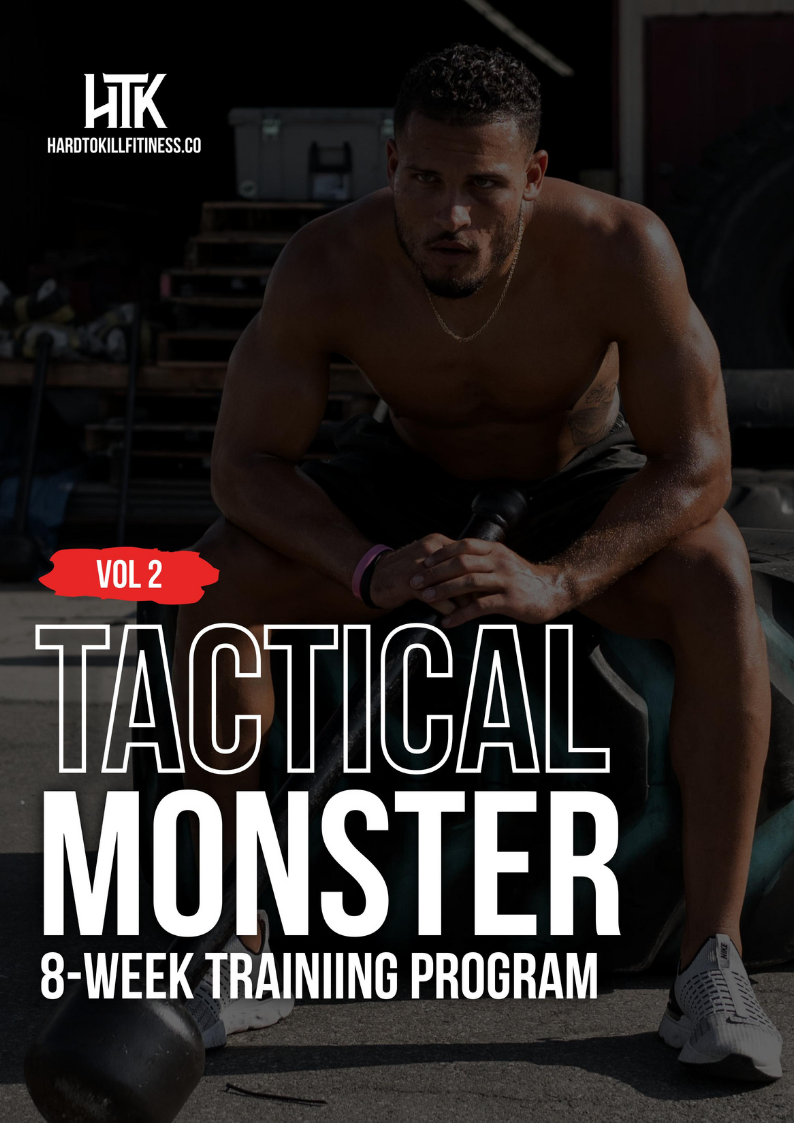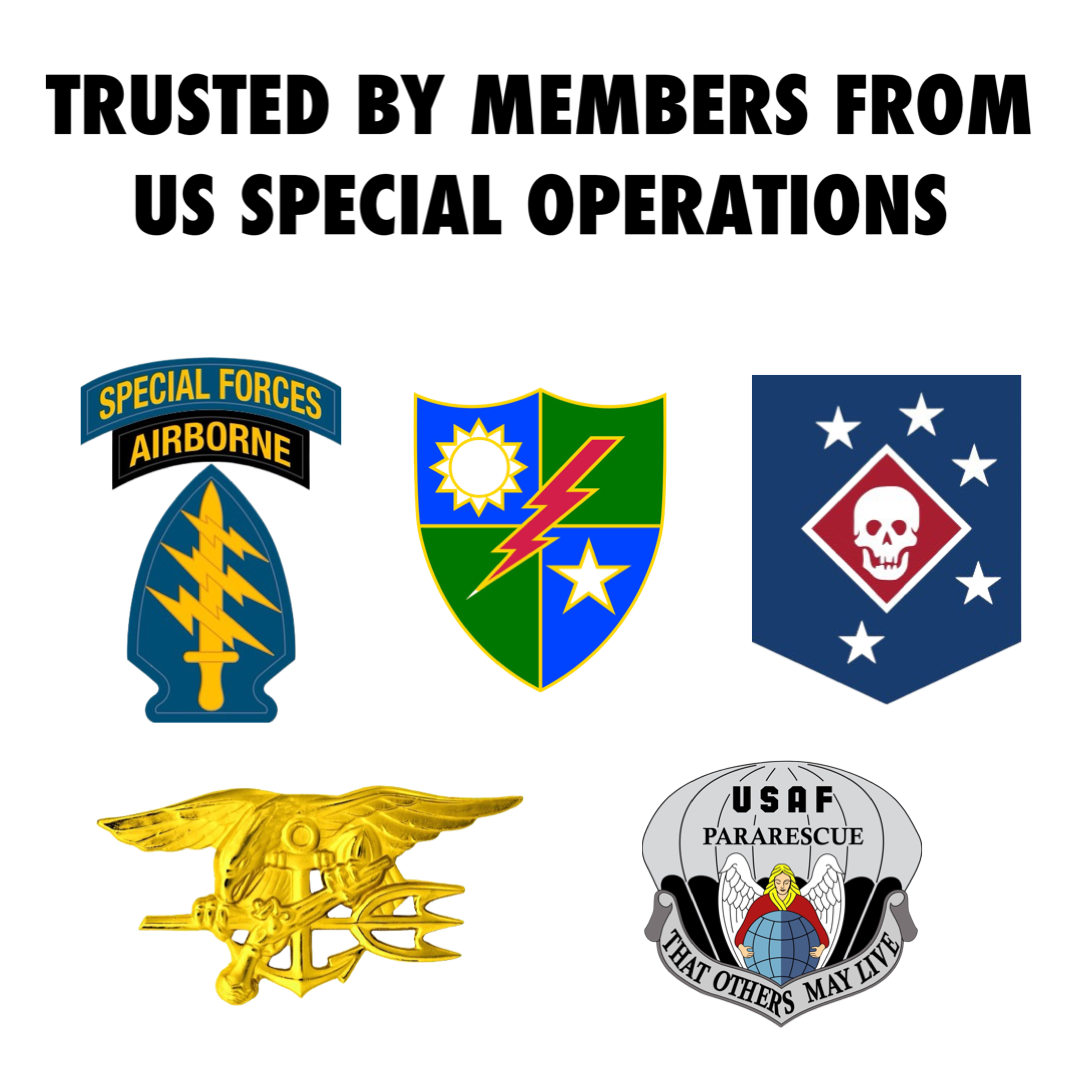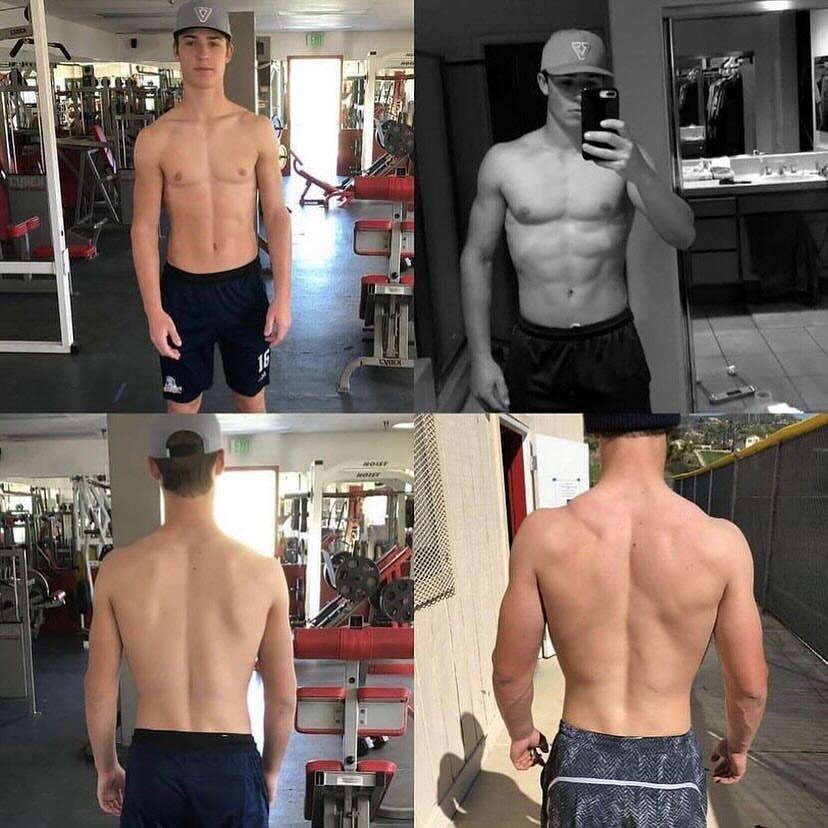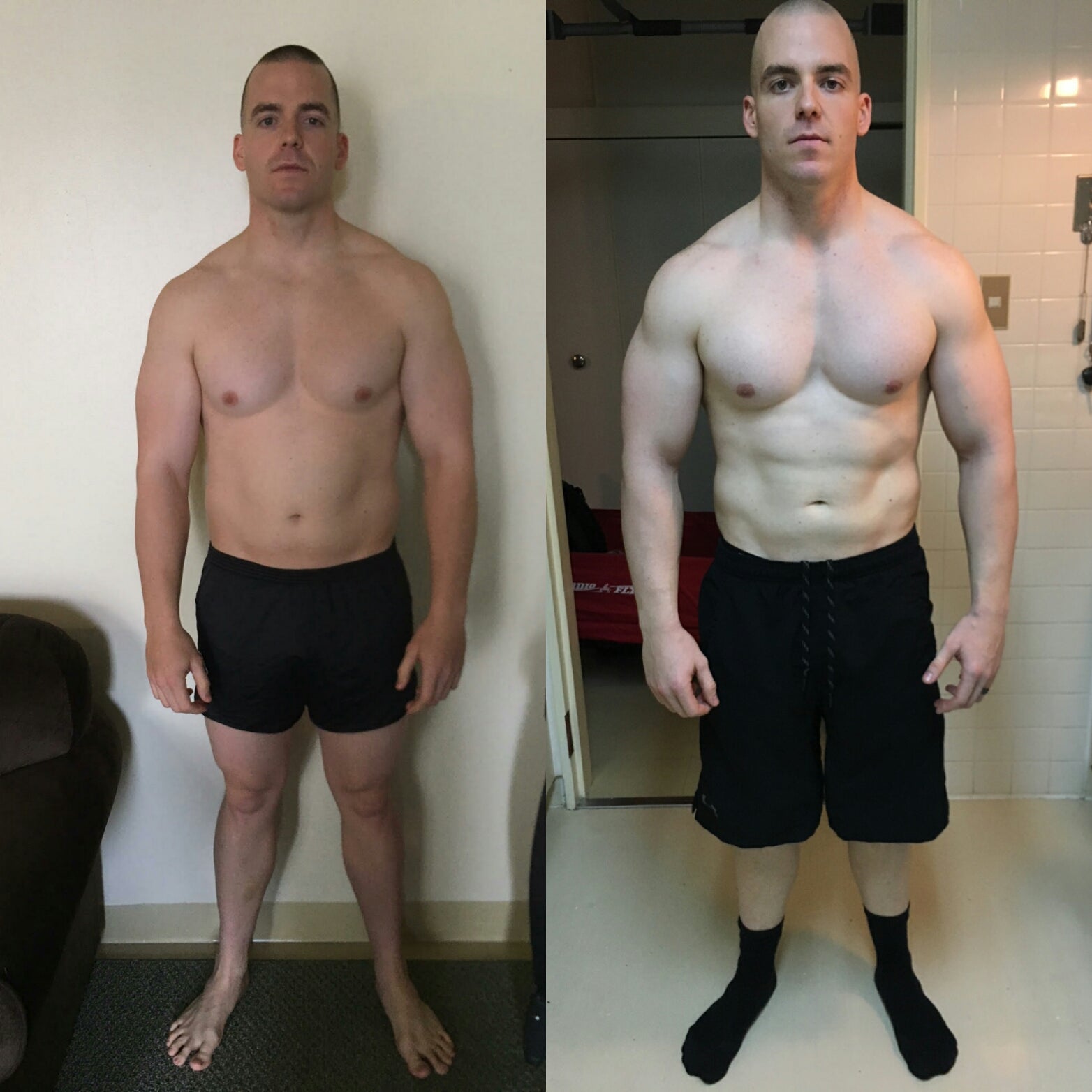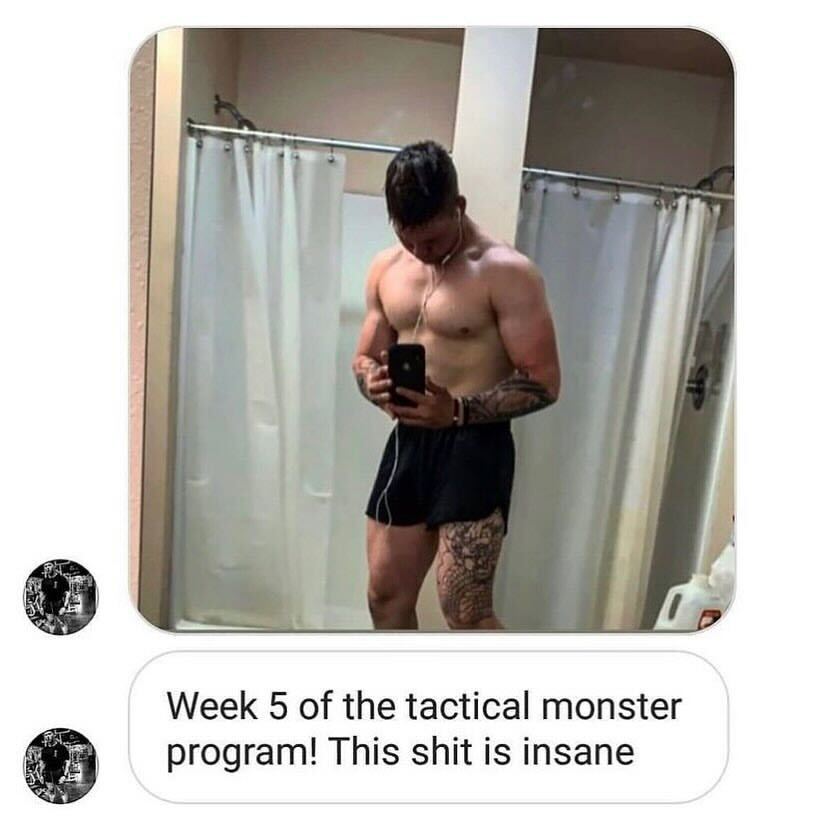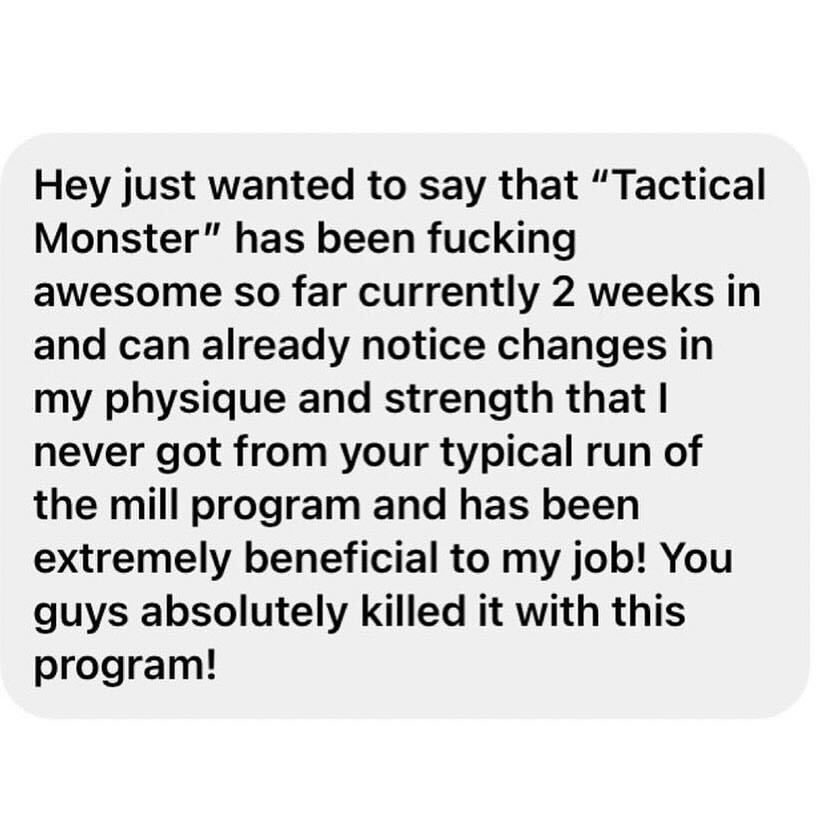 TACTICAL MONSTER V2 [MASS]

Description
Utilize the blueprint used by Special Operations to Build maximum muscle without sacrificing Athletic Performance. Welcome to Tactical Monster Volume 2 💪

This is an extremely simple, but insanely effective system built for the everyday athlete who needs to build Size, Strength & Athletic Performance.

With the right mix of weight training and conditioning, we have laid out all you need to build maximum muscle, strength & power while utilizing movements that improve athleticism along with conditioning to keep your endurance levels sharp.
If you want to;
Gain Rock Hard Muscle without Fat


Develop Incredible Strength and Power

Increase Athletic Performance

Improve Confidence & Self-Belief
Then this program is right for you!
⚠️ Warning: This is not a mainstream muscle building course.
THE TRAINING
Combining 4 days of lifting with HIIT sessions and LIC (Low-intensity condition) this program is designed for maximum results.
You will be following a rotating strength cycle where the set/rep scheme changes each week for your main strength lifts. This is to keep your strength progressing & allows for constant goals/records to aim for.
After this, the main focus will be on using functional bodybuilding style movements with high volume and supersets to build size and athleticism.
Finally, we add in specific short sharp conditioning sessions and LIC for performance and endurance.
What's included
4x Lifting sessions per week (50-70 mins)

Short HIIT cardio sessions that rapidly accelerate fat loss and keep you burning fat for 48 hours after your cardio session. (8-15 mins)

Longer LIC sessions to mobilize fat, improve your endurance & recovery ability. (20-40 mins)

Workout variety, conditioning options, and progressions so your workouts don't become repetitive.

Immediate program access
++ PLUS
Our updated Nutrition and supplement guide.

Members area access

HTK 8 Testing & HTK Mob mobility warmup.
REQUIRED EQUIPMENT
Adjustable Bench
Squat Rack
Barbell
Weight plates (Bumpers not required)
Dumbbells
Pull-up / Dip Station
Pull-down Machine (Optional)
Leg Extension Machine
Leg Curl Machine
Cable Set-up
Skipping rope
Sled or Prowler (Substitutions available)
Optional:
MISC Conditioning Equipment; Rowing Machine, Assault Bike, Stepper, Boxing bag, Sledgehammer.


 FAQ's
What's the difference between Vol 1 and Vol 2? 
We are constantly working on our programs making sure you are getting the best advice to get the results you deserve. Volume 2 still helps you hit the same goals, but with a greater emphasis on upper body Size, and Strength for the Lower body & entire Posterior chain.
We have laid your training out in a more progressive model, allowing you to track and see better progress in key exercises. The program is also now more garage gym friendly with fewer machines used! Vol 2 is not a progression from your Vol1 so you do not have to do this before you start. 
Why 8-weeks?
It is the optimum time frame to help assure your adherence to the training and gives enough time to see your results.
This plan can, of course, be repeated after taking a break for a couple of weeks for even better results
Is this a home or gym program?
Your weight sessions will require a gym with basic equipment, this is 4 days a week. If you have a home gym setup you may have most of the equipment, a full list of what is required can be found on the product page. There are always substitutions that can be made feel free to reach out to us.
Do I need to have performed Vol1 before Vol2?
No, there is no need. This is a replacement program, not a progression, and you can no longer purchase vol1.
What fitness level is this for?
Beginners to Elite. However, we do recommend trying one of our bodyweight, no equipment programs or Built a Different (home) first, if you are an absolute beginner to any type of training.
TACTICAL MONSTER V2 [MASS]
TACTICAL MONSTER V2 [MASS]
Love this programme!
Just what I needed to ensure an upward trajectory in my workout regime. I love that it's straight to the point with no messing, really easy to follow on one screen instead of flitting back and forwards to different pages like some other programmes. I've seen very noticeable improvements in my physique already and I'm only just starting in my 3rd week today. Thanks for an awesome plan HTK.
Feeling great
I'm about two weeks into the tactical monster plan and am a big fan of the results and workout structure. The duality of building power but keeping rest short to maintain endurance helps with a well balanced routine to make some awesome progress
Killer
I'm currently on week 4 of tactical monster v2 and I love it. I'm deployed right now and this has made me feel like a beast and like I can preform my job better. Once finished I'll be running Lean Machine v2 and am looking forward to the challenge!