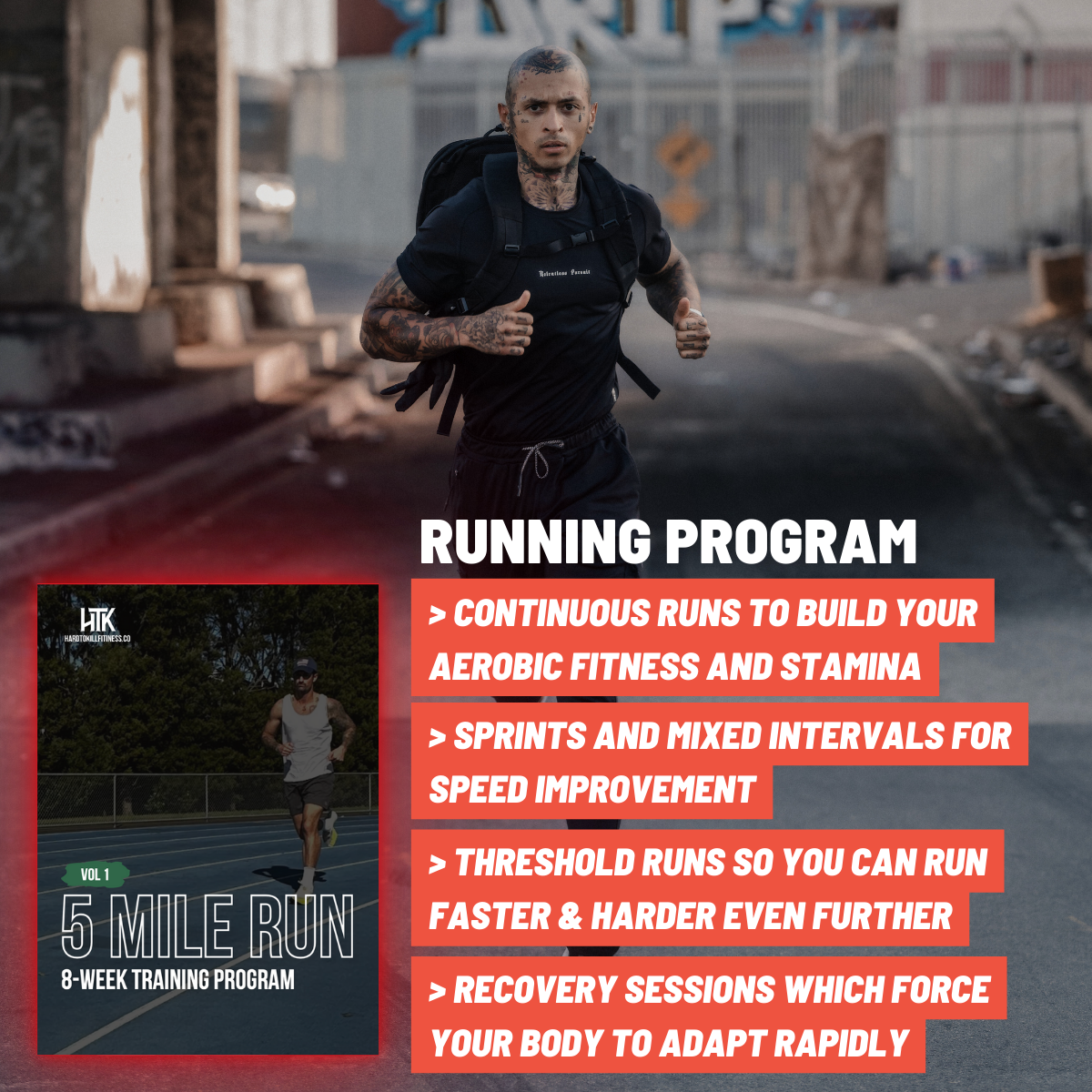 5 MILE RUN

Description

Discover the training methods we use to build elite running speed & endurance easily so you can do less while improving more.
Whether you are looking to smash through the 5 Mile 35 Minute barrier required in many Special Operations courses or if you're looking to reach elite levels of endurance, this program is for you.
We get it. Running isn't a glamorous activity. It often requires grit and willpower. Both of which are pillars of what makes you Hard to Kill!!
Through a strategic design, we have created the most effective running program, which is time efficient, flexible to all levels, easily adaptable to your schedule, and can be done anywhere, anytime. No fancy equipment or track required.
This program focuses on four activities that are the keys to success.
Continuous runs to build your aerobic fitness and stamina.
Sprints and mixed intervals for speed improvement.
Threshold runs so you can run faster & harder even further.
 Recovery sessions which force your body to adapt rapidly.
Elite levels results require Elite levels of work.
TRAINING:
This program is built to help you improve your running speed & efficiency in order to run 5 miles in 35 minutes or less. To achieve this quickly & effectively, we are focusing on building your base aerobic efficiency & speed endurance initially then lifting your lactate threshold & stamina so in simple terms; you can run faster & harder, further than you ever have before.
The training is 4 sessions per week taking between 30 to 60 minutes and only 3 hours per week total. By taking a low-volume approach, this program can be used individually or as a replacement to conditioning in any HTK Home or Gym program.
What's included
4x sessions per week ranging from 30-60 minutes each
2x Continuous longer runs to improve aerobic efficiency & recovery
2x Speed runs to build running-specific strength & speed endurance
Time-based runs that allow for improvement no matter your current ability
Progressive schedule to build you up gradually
Immediate program access
FAQ'S
Will this program work for me?
This program has been tried & tested successfully by hundreds of military athletes, many who are preparing for the toughest selection courses in the world such as BUD/s, SFAS, Ranger School / RASP, MARSOC, USAF Combat Control, Pararescue, SAS and more.

Can I incorporate this with my current training?
Yes, this can easily be added on to any HTK program by replacing the conditioning sessions with the running workouts in this program.
What ability level is this program built for?
This program is for intermediate runners who already have a decent aerobic base. For example you can already run for 30 minutes continuously.
If you are a beginner this program will still work for you, you just may have to run through the program 2x before hitting the desired outcome of running 5 miles in 35 minutes or less.
Do I need access to a running track?
Although a running track is helpful, you can perform this program anywhere such as a sports field, trail or even indoors on a treadmill / Skillmill.
5 Mile Run
Another great program from HTK, great secondary workout for the other programs.
Review of 5 Mile run
Great program. Well structured with good progressive work as weeks go on. A great complement with other HTK programs