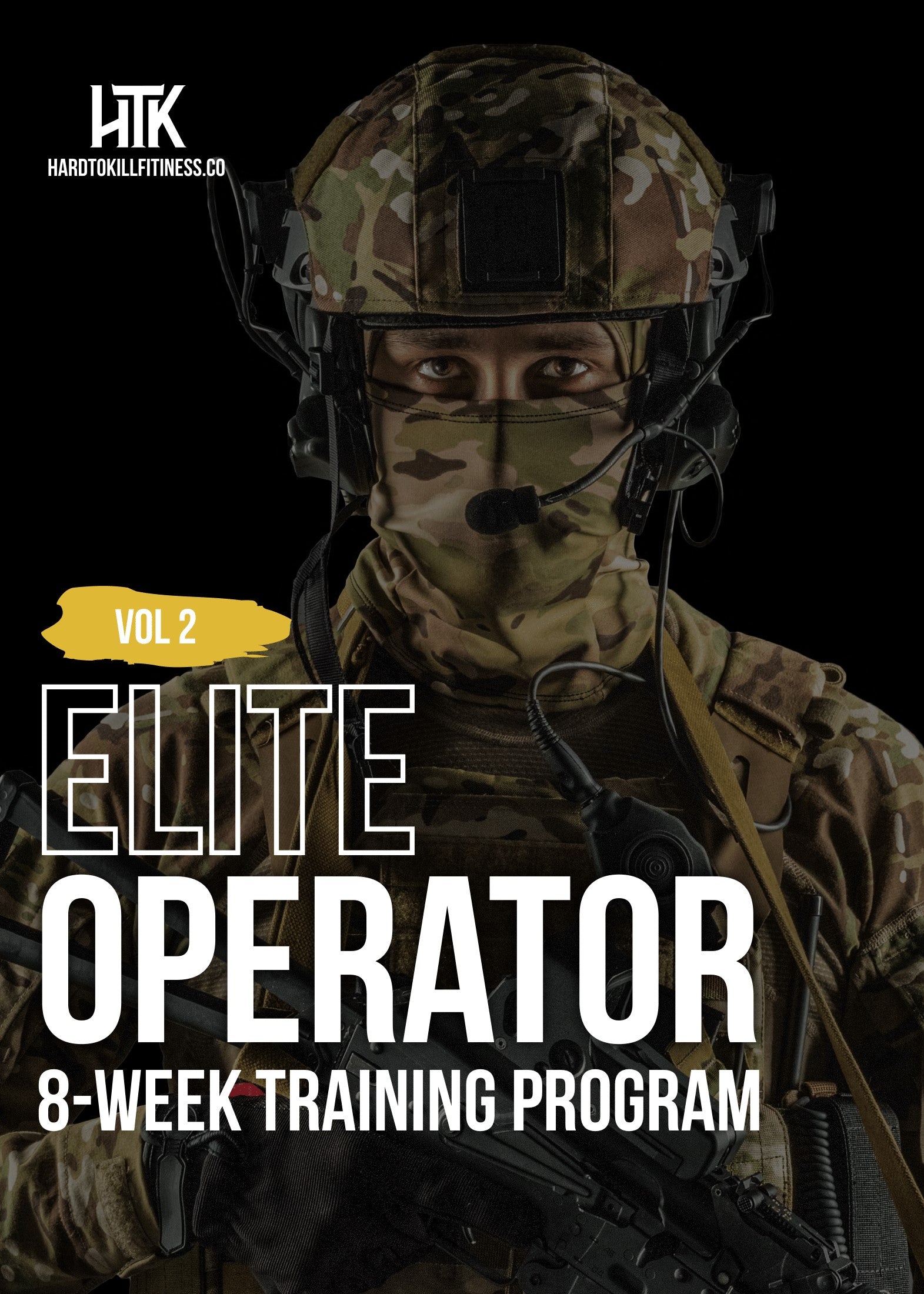 ELITE OPERATOR V2 [SOF PREP]

Description
Are you ready to train Like the Elite & unlock your potential? Then welcome to Elite Operator Vol 2.
This program shows you how to get in the best shape of your life utilizing the blueprint used by Elite 𝐒𝐩𝐞𝐜𝐢𝐚𝐥 𝐎𝐩𝐞𝐫𝐚𝐭𝐢𝐨𝐧𝐬 warriors to develop tactical strength & stamina, while pushing the boundaries of mental endurance.

It was created for anyone whether you want to become an elite all-around athlete, are planning to take on a tough military selection, or an everyday individual who wants the ultimate challenge.
8-weeks of training constructed to contain exactly what you need to perform at your best, taking all of the guesswork out so you can get after it without fear of wasting time or energy.
It is great for anyone that is looking for the ultimate transformation, increasing their endurance, strength, core, and physique.
If you want to;

Run and Ruck further, faster & harder

Increase Muscle Stamina

Build Strength and Lean muscle

Build a more mobile, flexible body & stay Injury-free

Develop resilience & mental fortitude
⚠️ Warning: This is not for the faint-hearted ⚠️
THE TRAINING 
Combining 3 days of lifting with calisthenics, running, rucking and non-impact LIC (Low-intensity conditioning) this program is designed for maximum results.
You will be following a rotating strength cycle where the set/rep scheme changes each week for your main strength lifts. This is to keep your strength progressing & allows for constant goals/records to aim for.
After this, the main focus will be on using calisthenics movements with high volume to build stamina and athleticism.

Finally, we add in military specific conditioning sessions and LIC for rapid increases in performance and endurance. Your 8 weeks are split into 2 phases with deload weeks to help recovery and ensure maximum results.


What's included
A complete blueprint that will help you CRUSH your selection & stand out from your peers.

Performance-focused training.

6x Days per week training with sessions ranging from 45-75+ minutes each**

3x Lifting Days / 1x Calisthenics / 2x Running / 1x Rucking / 1x non-impact LIC.

Workout variety and progressions so your workouts don't become repetitive.

Immediate program access
**Most sessions are between 45-75 minutes however rucking sessions, especially later in the program will reach 120-180 minutes.

++ PLUS
Our updated Nutrition and supplement guide.

Members area access

HTK 8 Testing & HTK Mob mobility warmup.


REQUIRED EQUIPMENT
Adjustable Bench
Squat Rack
Barbell
Weight plates (Bumpers not required)
Dumbbells
Kettlebells (Optional)
Pull-up / Dip Station
Pull-down Machine (Optional)
Leg Curl Machine (Can be substituted with bodyweight alternatives)
Cable Set-up
Resistance Bands
Optional: MISC Conditioning Equipment; Rowing Machine, Assault Bike, Stepper, Boxing bag, Versaclimber.
FAQ'S
What's the difference between Vol1 & Vol2?
Elite Operator vol1 is still a great program, we simply decided it was time for a refresh. It is our goal to always continue to improve and upgrade our training to help you achieve your best results.
Is this a home or gym program?
Your weight sessions will require a gym with basic equipment, this is 3 days a week. If you have a home gym setup you may have most of the equipment.
There are always substitutions that can be made feel free to reach out to us.
Can beginners do this program?
No. You can be a beginner to weight lifting but your physical fitness has to be at least decent to take on this program.
If you are intermediate or have a standard fitness level or above this is the perfect plan.
Do I need to have performed Vol1 before Vol2?
No, there is no need. You can still start with this program and do not need to have completed the first volume as this is no longer available. 
Why 8-weeks?
It is the optimum time frame to help assure your adherence to the training and gives enough time to see your results. This plan can, of course, be repeated after taking a break for a couple of weeks for even better results.
Elite Operator feedback
I really like this program a lot! I've seen some results when I push more weight, perform better in Jiujitsu, and overall just a fucking Beast!
Fantasticly brutal
I love the program! I was looking for a challenge that would push me past my comfort zone, so when I saw this program I knew I had to try it out and it's kicking my butt in a good way. So far I've enjoyed the intensity and I'm eager to see the results at the end of it all!
ELITE OPERATOR V2 [SOF PREP]
ELITE OPERATOR V2 [SOF PREP]
ELITE OPERATOR V2 [SOF PREP]