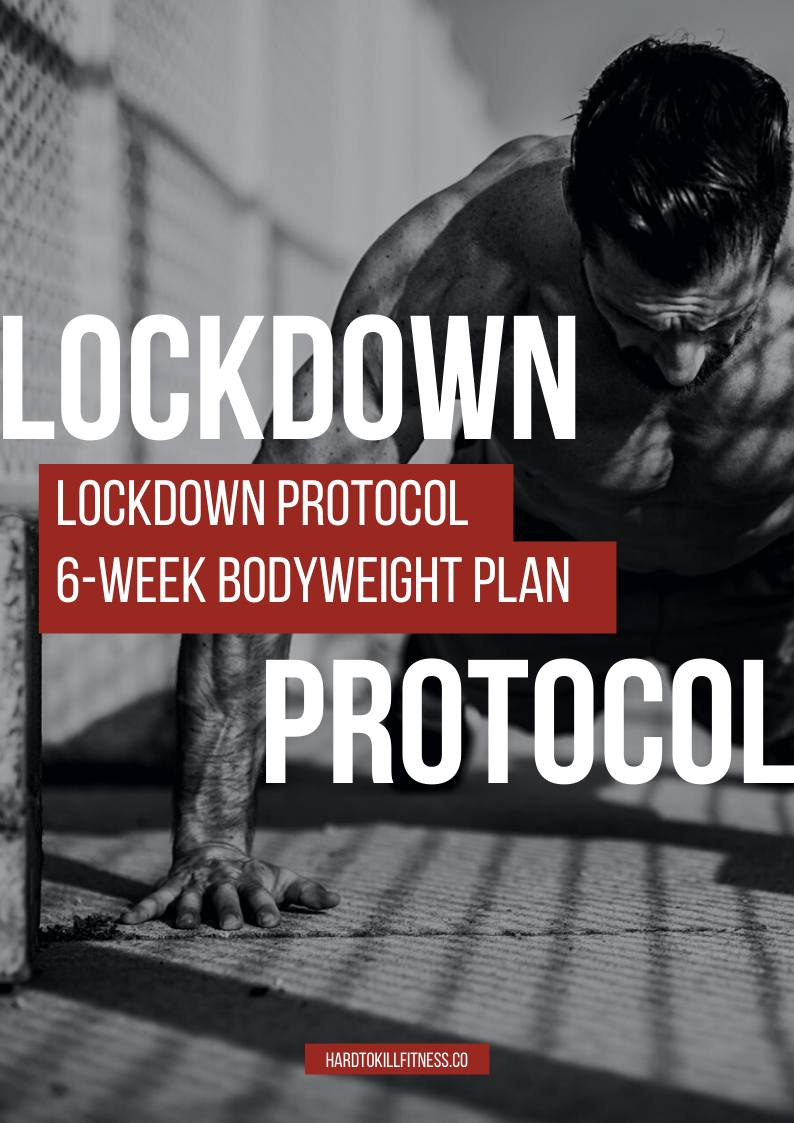 Lockdown Protocol [ZERO EQUIPMENT]

Description
 "GREATNESS COMES FROM ISOLATION". 

HTK Lockdown protocol is now LIVE.

The following program was designed to enhance your physique, strength, endurance, and mobility in a simple and approachable way. 

With a focus on hitting a high volume of repetitions daily through high-intensity intervals, circuits and AMRAP's.

This is a completely zero equipment training plan, that doesn't even require pull-up or dip bars. All you need is your body and mindset to take on the challenge.
What's Included?
4 Sessions per week that are 20-30 minutes each.
Progressive programming that gets harder over time.
Scaling options to make things harder / easier.
Build muscle density through high volume calisthenics.
Speed up your metabolism, resulting in increased fat loss.
++ BONUS Nutrition and Supplement guide that uses simple everyday ingredients.
Who is this training ideal for
Those who want great results but are currently locked down.
Those of any fitness levels from beginning to advanced.
Those looking to boost their strength in body-weight exercises.

 
NUTRITION & SUPPLEMENT GUIDE
When training I find so many who struggle with knowing the right food to fuel their bodies with. That is why I have included my specific nutrition & supplement guide to work alongside your training.

A simple guideline of what your nutrition should look like, and the best supplements to make your training more effective.

Budget-friendly real food.

A detailed guide on how to work out your macros.

Sample meal ideas.

My top supplement recommendations.
Correct nutrition is key for optimal results.

 SUPPORT
You are not alone on this journey, at HTK we have a tribe of brothers all on the same journey.    
Private FB group to connect with the rest of the tribe.

Customer only email address to answer any questions you have throughout.

24/7 support from me and the rest of the team.
Good intro/maintenance
This course was easy enough to get into without getting overly sore but challenging enough to notice a difference in daily performance
Great change of pace for bjj
Love this workout! had to modify it alittle due to 12 hour night shifts and bjj twice a week. I took out the total body circuit and used the upper lower full body written workouts 3x a week. It definitely helps with hard sparring rounds!
Great Bodyweight Program
I enjoy the setup of the program, only request would be for videos to accompany the workouts. This would make it easier to see how to properly perform a few of the less common exercises.
Perfect for beginners
I wanted to get back into fitness after lazing around for far longer than I'd like to admit. I'm in the middle of week three right now, and couldn't be more satisfied with the training. I'm a woman, and before I started the Lockdown Protocol I could barely to a single push up (a real one, not elevated or from the knees). Now I can do 5. Which might not seem like a lot, but for me that's quite some progress. Thank you so much HTK Fitness for giving me the perfect workout to help build not only my muscles, but also my discipline.
Best workout
This workout has been big help to me to live my best self and to properly ensure that I seize the day when I can't make it to the gym!!