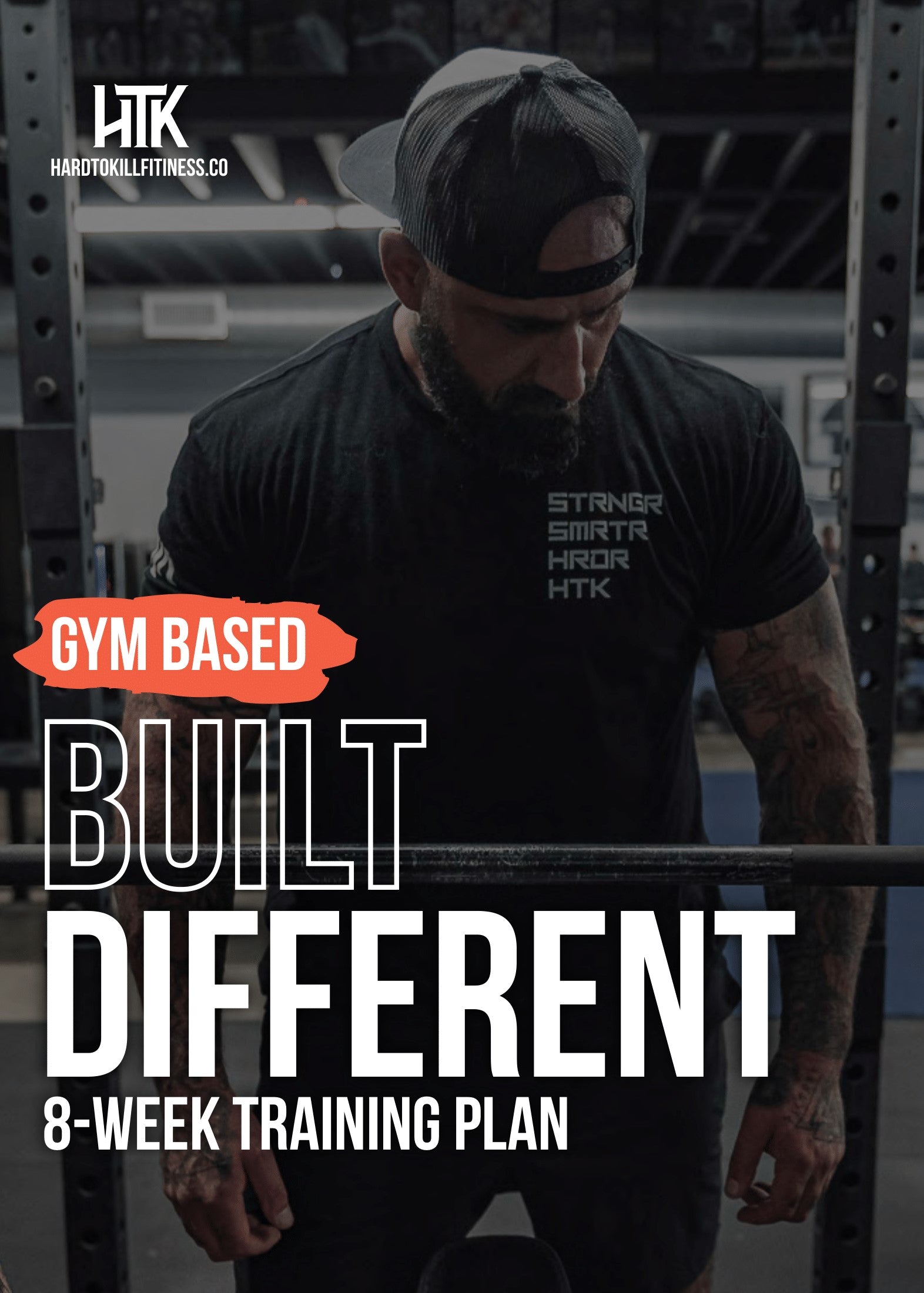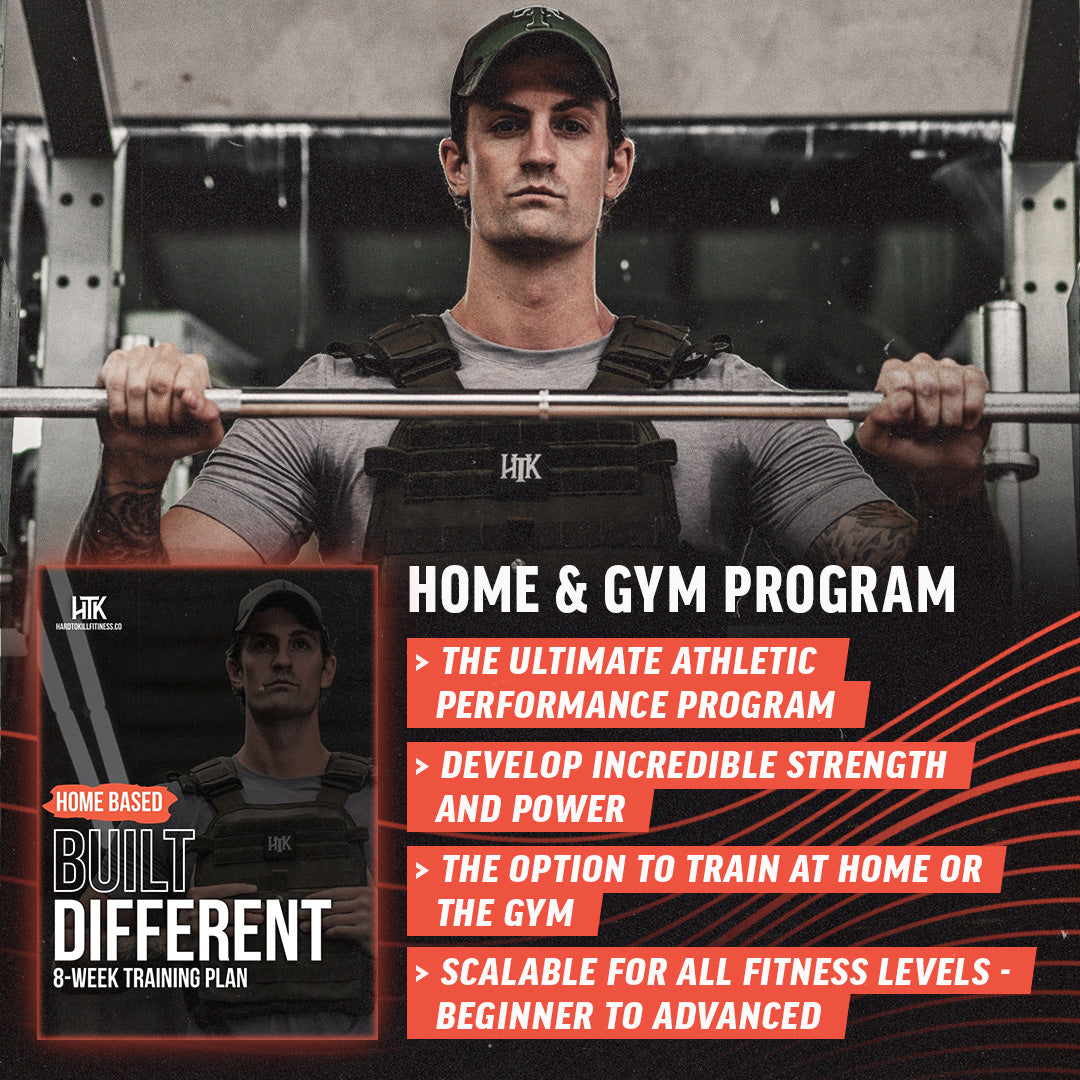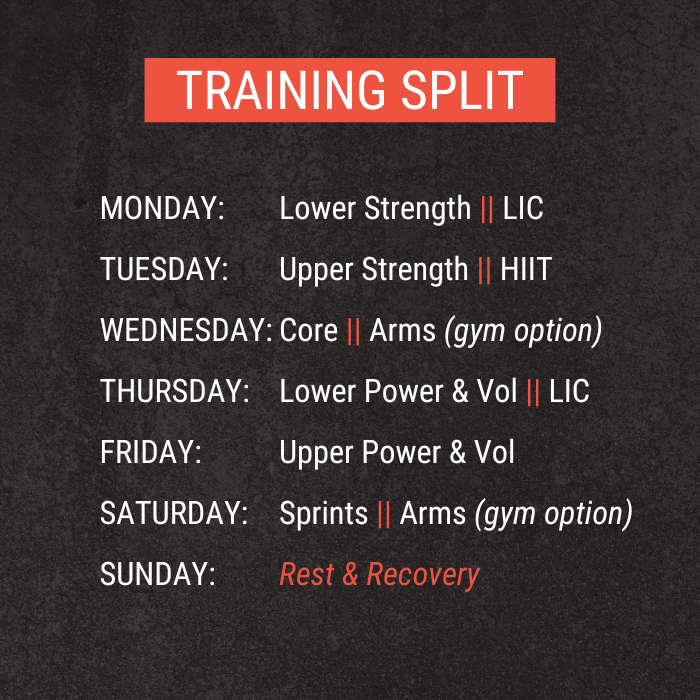 BUILT DIFFERENT [PERFORMANCE]
CHOOSE YOUR PLAN BELOW:
HOME

Description
Are you ready to be BUILT DIFFERENT?

HTK warriors are built different with a drive and determination that is like no other. This program matches those needs to be HARD, STRONG, FIT, & FAST and helps you prepare for the battle ahead.
Following the traditional HTK philosophy, this program is simple to understand, effective, and will challenge you throughout. It covers all of your performance needs of strength, power, agility, and endurance while helping you define your physique so you look and feel at your best.
There will be two 4-week phases to keep your training fresh and have you building lean muscle mass, increasing strength, and becoming an all-around ultimate athlete. With the option to choose HOME or HOME + GYM, lack of equipment will not get in the way of your progress.
All fitness levels can benefit from this program. With the addition of weight and scaling options, everyone from beginner through advanced will see progress.
"A pint of sweat will save a gallon of blood."

Gen. George S. Patton
**NOTE this program comes in a downloadable pdf format only. After your purchase, you will be linked to the download page
THE TRAINING
BUILT DIFFERENT HOME

Two 4-week training phases
45 - 60 minute sessions
6 days per week
At home workouts with minimal equipment
Build lean muscle and increase fat loss
BUILT DIFFERENT HOME + GYM
Two 4-week training phases
45 - 60 minute sessions
6 days per week
Sessions for at home and at the gym for each day
Uses equipment available in most home gyms
Build strength and increase fat loss
Includes new Arm Specialization Program
NUTRITION AND SUPPLEMENT GUIDE
When training I find so many people struggle with properly fueling their body. That is why I have included my specific nutrition & supplement guide to work alongside your training.
 
This guide is a simple walk through of what your nutrition should look like on a daily basis and the best supplements to make your training more effective.
Budget-friendly real food 
A detailed guide on how to calculate your macros 
Sample meal ideas 
My top supplement recommendations 
Correct nutrition is key for optimal results. You can spend hours in the gym or working out, but your results will be hindered if you are not eating properly.
THIS TRAINING IS IDEAL FOR
Beginner to Advanced fitness levels
Those looking to take their performance to the next level
Those with and without gym access
EQUIPMENT REQUIRED
HOME
Chair

Backpack or Weighted vest / plate carrier

Pull-up bar

Resistance band – medium strength

Jump rope

Stability ball (Optional)

Single Dumbbell @20-30lbs (Optional)
GYM
Squat rack

Adjustable bench

Barbell

Dumbbells

Weight plates

Resistance band – medium strength

EZ bar (optional)

Stability ball

Pull-up bar

Dip bar

Optional conditioning equipment:
Jump rope, boxing bag, battle ropes, rowing erg, assault bike, sledgehammer & tire, Sled, Stairmaster, stationary bike.

SUPPORT
You are not alone on this journey, at HTK we have a tribe of brothers all on the same journey. 
Private FB group to connect with the rest of the tribe.

Customer only email address to answer any questions you have throughout.

24/7 support from me and the rest of the team.
Solid program
Great program, split days are great and will use it periodically. Though right now I'm following a CrossFit gyms program. Sea of Green🤙🏻
Built Different- Home Edition
I am a 68W in Active Duty. I went to the gym for 2 years and also of course did PT daily. But after my wife had some major surgeries I found myself having no time to go to the gym after work. After doing HTKF Built Different I have still noticed improvement in my physical fitness and can honestly say it is a great program.
Great
Great workout in short time. Week 3 already seeing and feeling results.
Discipline
Honestly, as a veteran this has given me the structure and discipline that I surprisingly miss from the Army. It's kept me motivated and has raised my confidence a great deal.