HTK Fitness is about more than just physical fitness. It is a community of hard-charging military enthusiast's joining forces on their journey to become stronger, faster battle-ready warriors.
We demand discipline, determination, comradeship and hard work, some of the values that are lost in modern day society.
OUR FOUNDER
Founded by strength and conditioning coach Rory JT. An Infantry veteran and visionary who saw a lack of proper training and direction for those entering Military and Law enforcement. He also saw a loss in identity with guys leaving service losing their sense of belonging and wanted to bring that back through training and community. A community that is linked through blood, sweat and steel.
His clientele ranges from Former and Active SOF members, Private Military Contractors, SWAT members, Celebrities preparing for Military Roles, to Military, Law enforcement, Firefighters and anyone who wants to become an all-round bad ass that wants to take control of their life and protect the ones around them.
Rory uses his experience and skills to provide you targeted 'no fluff' programs designed to help you become Harder to Kill.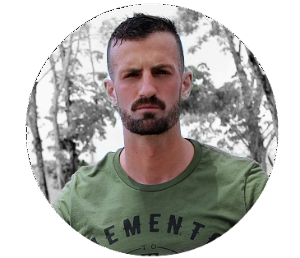 PERFORMANCE BASED TRAINING
With a lack in proper direction, I saw so many guys who were training hard but not achieving the results they deserved. It's not just about training hard, it's about training smart. That means performing the right kind of exercises in the right way that gets you the results you need to reach your goals.
"I had to trial and test out different combinations of many different exercises and techniques to find the right balance that would increase your strength, enhance your physique and never neglect your performance."
You won't find repetitive boring workouts that are impossible for the normal man to achieve, it's raw, simple training that is effective. In any combat-based profession, you need to have the skills to be ready for anything that comes your way. Out there, it is a life or death situation.
HTK trains and prepares you to be at your physical peak so you feel confident in knowing that you can give it your all when your country, community and loved ones need you the most.
PREPARE TO JOIN A BROTHERHOOD
"We don't need accountability groups; we need fellow warriors, someone to fight alongside, someone to watch our back."
- John Eldridge
To be a Hard to Kill Fitness Warrior means to strive every day to be the best version of yourself and push through the pain. We are looking for motivated individuals who like to train hard and push themselves to the limit creating a tribe like no other. Get ready to join a team of like-minded individuals who know comradeship is vital.  Together you fight through the pain, motivate each other and complete your mission no matter what it takes.
Go out there and prepare yourself for the battle.
"You armed me with strength for battle; you humbled my adversaries before me."
-Psalm 18:39